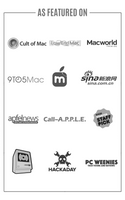 Our Story
It all started in 2005 when Apple announced the Mac Mini G4, we realized that this new machine opened a new untapped market for budget Macs. Recognizing that its small size was both a blessing and a challenge we conceived an under-desk mount. Such a mount would both protect the Mac and declutter the user's desk space.

In early 2005 we received an early machine and began the design work. This new mount would be called DashMini. Within 3 months of Apple's launch we had production units ready and began shipping these units worldwide. We choose to use polycarbonate plastic to be extremely durable as a chair could come into contact with the mount. Within the first two years several competitors all entered the market, all with designs using much cheaper and much weaker acrylic plastic. We remained the product category leader until late 2010 when Apple announce a new design a slimmer profile.
In 2017 we decided to go big and create something really unique and exciting. We designed a completely custom engineered, artistically interpreted clear case for the Macintosh SE and SE/30.

This was the first time in history anyone has ever attempted to produce a custom Mac case of this kind. The original goal was to create a case design artistically inspired from the prototype Macintosh SE clear case. We first launched the project on Kickstarter to ensure enough interest and we exceed all goals, even stretch goals!
Meet the Team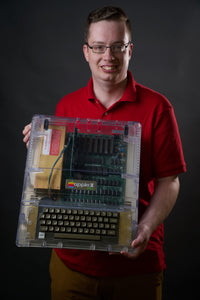 Mark - Founder
Mark is a serial-entrepreneur who has started 5 companies since 2005. One of Mark's true passions is vintage computers. Mark's passion started with his first computer in 1995. Realizing this passion, he started the concept of MacEffects with the introduction of the world's first under-desk mount for the Mac Mini G4 in 2005. This experience has allowed for the development of new products and services to serve the vintage computer community.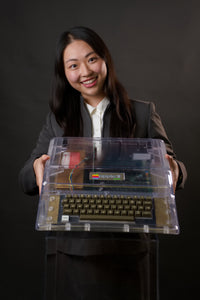 Tairu - Procurement & Bookkeeping
Tairu has a strong background in accounting and finance. She provides project bookkeeping services. Tairu also assists with procurement of materials. Tairu is bilingual in both Mandarin Chinese and English. This coupled with prior international business experience has allowed Tairu to help facilitate the purchase of raw materials needed for production.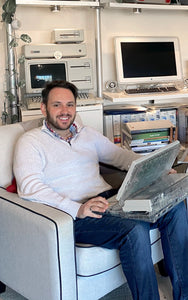 Adrian - Asia-Pacific Operations
Is that a Newton in your pocket, or are you just happy to see me? Adrian is an antique Apple boffin. Having been introduced to the by his father at the age of 9, and taking over the school Apple Labs at 12, he has grown his love of technology, systems and people. At 14 Adrian bought a second hand Mac Plus and that started an obsession of buying, restoring and collecting old Apple products. Now with one of, if not the most conclusive historical Apple collection globally, Adrian spends his days helping others with tech and finance, and fixing whatever he can.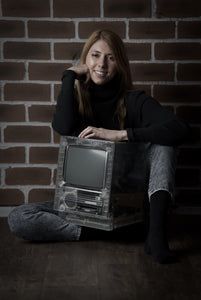 Molly - Model
Molly and Mark were classmates at the university and she was excited to be a part of MacEffects's projects. Molly is 25 years old, and has been modeling for 6 years and really has a passion for using her creative talents to help businesses grown. Molly has been featured in many prominent advertisements and photo shoots. If you are interested in hiring Molly, please reach her directly at m.brust2121@gmail.com

This has to be the best upgrade for the Mac SE/30 on the market!

Richard P.
I have dreamed of a case like this for years. I am simply moved looking at the Mac inside this case.

Sarah L.
I put my Mac on display in my office with the clear case and all of my clients remark how cool it looks. The response of the children is more exciting.

Stephen M.
Introducing our Latest Project