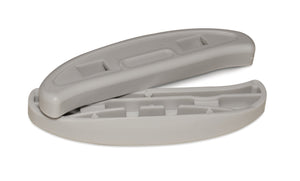 A MacEffects exclusive, 4 injection molded feet.  We painstakingly engineered these feet to match the originals as closely as possible including texture.

Compatibility:

Power Macintosh 6100/60av
Apple Workrgroup Server 6150
Macintosh Performa 6110cd

Macintosh Performa 6112cd
Macintosh Performa 6115cd
Macintosh Performa 6116cd
Macintosh Performa 6117cd
Macintosh Performa 6118cd
Macintosh Quadra 610
Macintosh Centris 660av
Please note: while we attempted to create the exact color, slight variation will be present.  Likewise, these will not match your case completely as these machines are around 25 years old and have varying stages of yellowing.  We would say that our feet are more platinum than beige. Also, when installing these feet, please note that it is a very tight fit and you may have to adjust the metal receiving end on your machine.  This is true of all feet including original feet
.